This is the fourth and final profile celebrating writers who have produced original poems for Nicollet Lanterns. Previously, I interviewed Sagirah Shahid and Junauda Petrus and wrote about Moheb Soliman's multi-media works.
Poet R. Vincent Moniz, Jr. (NuÉta) has requested to speak directly to you through his writing and videos and especially about the upcoming release of his very first book Redoubted. This is his profile, in his own words. – Regina Flanagan.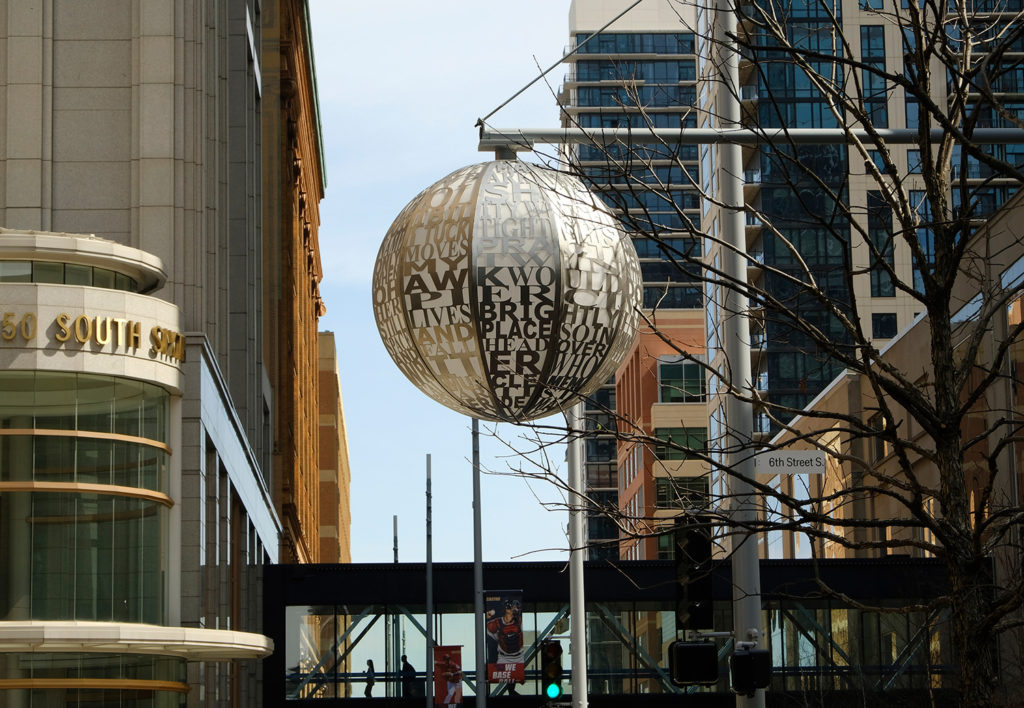 Water War: Where Homeless Nap Next to Millionaires
In water camp at malls end
many celebrate current triumph,
sing survivals name as only citizens
from the City of Lakes can
and I can think of no other place
to do it.
On this concrete runway you
can and will watch fitful dream
take flight. This is people space
and in this place you can hear
us all laugh, shout, and hum
with vibrance and electricity.
This is a mall where homeless
nap next to millionaires right
in front of Orchestra hall.
See smile and suffer alike
as we make our way loud
and live down Nicollet in this,
our Land of 10000 lakes
– R. Vincent Moniz, Jr. (NuÉta)
from Nicollet Lanterns
© 2016
Redoubted, Moniz's first book of poetry will be published on July 1, 2021 by the Michigan State University Press. This biography introduces Moniz and the collection:
R. Vincent Moniz, Jr., records the life and times of a mostly uneducated, economically disadvantaged, literary award-winning urban Indin. Much of his work reflects the people and stories from a neighborhood with the moniker Cockroach while simultaneously depicting contemporary issues of Native America.

Poems in this collection are filled with a dreaded fire of wit and cynicism given to him by the Oglala and NuÉta are peoples who helped to raised him. With a great deal of bathos, he glides and slides seamlessly from silly to sorrow without effort. His formidable verse irradiates and acknowledges the lives of an in-between people who are too urban for the reservation and too indigenous for American culture while he himself navigates multitudes including his place within nerd/pop culture, which widens the scope of his writing.

This collection mirrors a subculture that is either being hustled or all together overlooked and does so honestly without filter or worry. Moniz's poetic genetics are a makeup of orators that came before him and a new wave of emerging Indigenous American voices. The reader can see these narratives twist and turn to the heartbeat he writes them in.

NuÉta are tribal members and enrolled citizen of the Three Affiliated Tribes of the Mandan, Hidatsa and Arikawa Nations on the Fort Berthold Indian Reservation on the Missouri River in central North Dakota.

R. Vincent Moniz, Jr. is also an urban Indin, collector, liar, manipulator, hoarder, 2012 Jerome Foundation Travel and Study Grantee, 2013 Beyond the Pure Fellow, 2014 Verve Fellow, 2015 Loft Literary Center Spoken Word Immersion Fellow, Minnesota Emerging Writers' Grantee, 2016 Minnesota State Arts Board Artist Initiative Grantee, and Individual World Poetry Slam Indigenous Slam Champion. Moniz can share story in any genre.

He has appeared on The Moth Radio Hour and is also a Filmmaker. A poetry film he co-directed won awards from Co-Kisser Poetry Festival and the Southwestern Association for Indian Artists. Previous screenings include Imagine Native, Co-Kisser Poetry Film Festival, National Museum of the American Indian NYC, SWAIA Indian Art Market. Vincent currently co-hosts Haploid Heroes, a podcast that highlights the positive and negative Indigenous American representation within the comic book world. South Minneapolis and Tiirupa Pshii Wonis are his home and Home. He contains multitudes.
Read his other Nicollet Lanterns poems, view videos and learn more about Vincent Moniz, Jr. (NuÉta).